digger's blog
Submitted by
digger
on Thu, 02/10/2008 - 18:55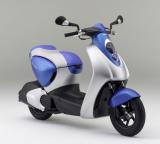 Honda plans to start selling hybrid petrol / electric bikes by 2010, following them with smaller, electric-only bikes by 2011.
Submitted by
digger
on Tue, 23/09/2008 - 11:26
Yamaha aims to launch electric motorcycles by 2010 with a range of 100 km (60 miles) on a single charge, comparable to those with 50cc engine displacements, the paper said.
Honda, the world's top motorcycle maker, will launch lithium-ion battery electric motorcycles in 2011, targeting customers such as Japan Post Service that may switch its fleet of about 90,000 motorbikes to electric models, it said.
Submitted by
digger
on Fri, 19/09/2008 - 10:56
Zemship
The Zemship (Zero Emission Ship), based in Hamburg, runs on a hybrid unit integrating two 48kW fuel cell systems and a lead gel battery.
Submitted by
digger
on Thu, 18/09/2008 - 21:59
The EPA is not sure how to rate the Chevrolet Volt's fuel economy, and GM isn't at all happy about it.
Popular content